Featured on Aol: A Christmas Light Projector Makes Decorating for the Holidays Easier Than Ever
This article by Sarah Morlock, Tyler Schoeber, and Allison Bowsher lists four Gemmy LightShow products as top options for Christmas projectors.
It's undoubtedly one of the most memorable scenes in any Christmas movie. The one where our hapless hero goes up a ladder and ends up falling off in their failed Christmas-light decoration attempt. While it's entertaining on TV, it's awful in real life. As anyone who has ever untangled Christmas lights can attest, putting up Christmas lights on your home is not only dangerous (ladder!) but also a pain. So it's no surprise that Christmas light projectors, our favorite new holiday lighting hack, are becoming so popular.
A Christmas light projector lets you beam a wistful holiday lighting display onto your home simply by flipping a switch. You can even create motion displays and create lights in the form of snowflakes and stars.
Holiday light projectors are a modern way to decorate your house for the holidays without much effort. Each holiday season brings new designs and styles, although the best Christmas laser light projectors will last for several seasons. Once upon a time, we even saw a Christmas Story light projector using images from the classic holiday film. Sadly, this product is no longer available, but you can still find plenty of other fun options to create a festive display.
To help you find the perfect Christmas light projector for your home, we've gathered the top options below. We should note that in 2021, we saw the most popular projectors from brands like StarTastic and Star Shower sell out, and you can still find some price gougers with ridiculous markups on these products at retailers like Amazon. This year, we recommend planning ahead and purchasing a holiday light projector from a reputable store while products are still in stock.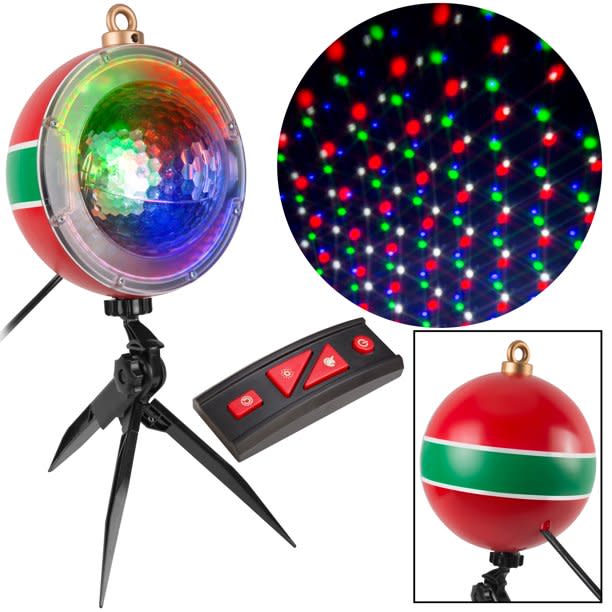 Points of Light Christmas Laser Light Projector
For just $25, you can install a weather-resistant laser projector with 122 different lighting modes, which you can choose with an included remote control. The Points of Light Christmas Laser Lights project red, green and blue lights onto your home, which can set your decorations apart this year. (Fun Fact: This product is produced by Gemmy, the home decor company that introduced the world to Big Mouth Billy Bass.) The projector itself is hidden within a giant Christmas ornament, which will only enhance your Christmas display.
Home Accents Holiday LED Snowflake Projector
A typical Christmas light projector beams red and green points of light onto your home, often with a blinking or motion effect. For Christmas 2022, we're seeing more light projectors designed to project snowflakes specifically, and if you like this wintery effect, then order the Home Accents snowflake projector from The Home Depot. This affordable projector can be placed indoors or outdoors and comes with a built-in stake for securing into the ground.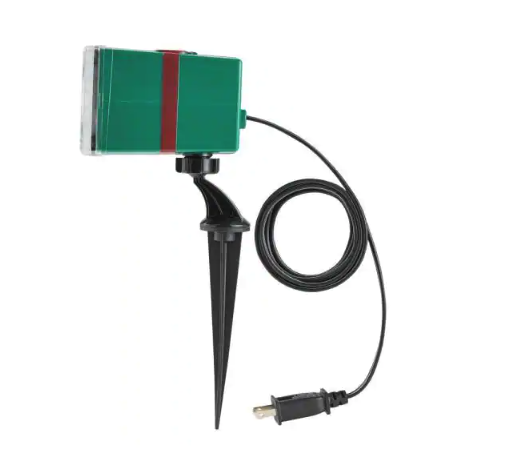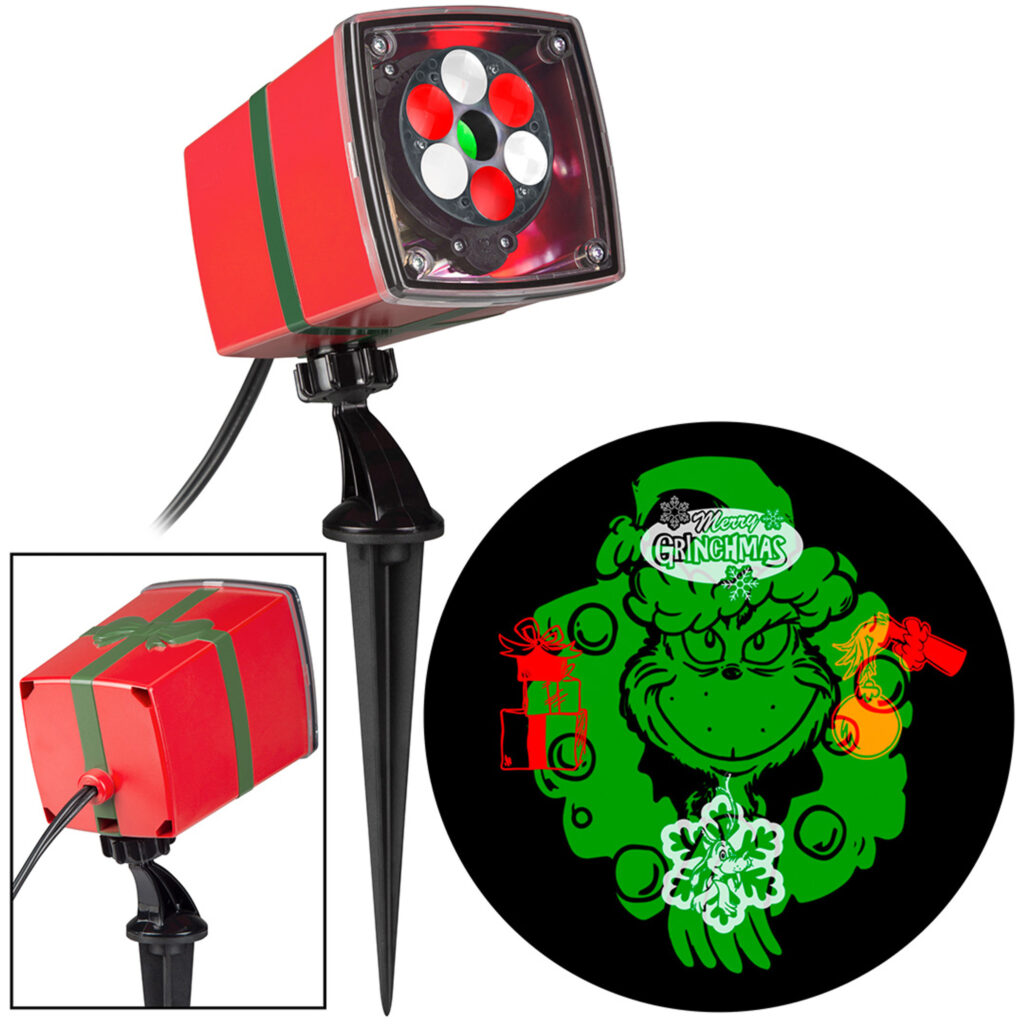 Dr. Seuss' The Grinch Christmas Holiday Wall Lightshow
Turn your home into Whoville with the splendidly spectacular light show featuring everyone's favorite Christmas hater-turned-lover, the Grinch. This holiday light projector, designed to look like a red and green Christmas present on your lawn, uses energy-efficient LED lights to display still and moving images featuring the Grinch, a present, a stocking and more. The holiday light projector includes a ground stake and base and can be set up outdoors or indoors.
LightShow LED Static Merry Christmas Projector
Kick it old school this holiday season with the LightShow LED Static Merry Christmas Projector, which features a choice of swirling or static holiday images to project onto your home's exterior or interior. An included ground stake provides a secure installation, and customers can choose from six interchangeable slides, including classic phrases like "Let It Snow" and an image of the North Pole.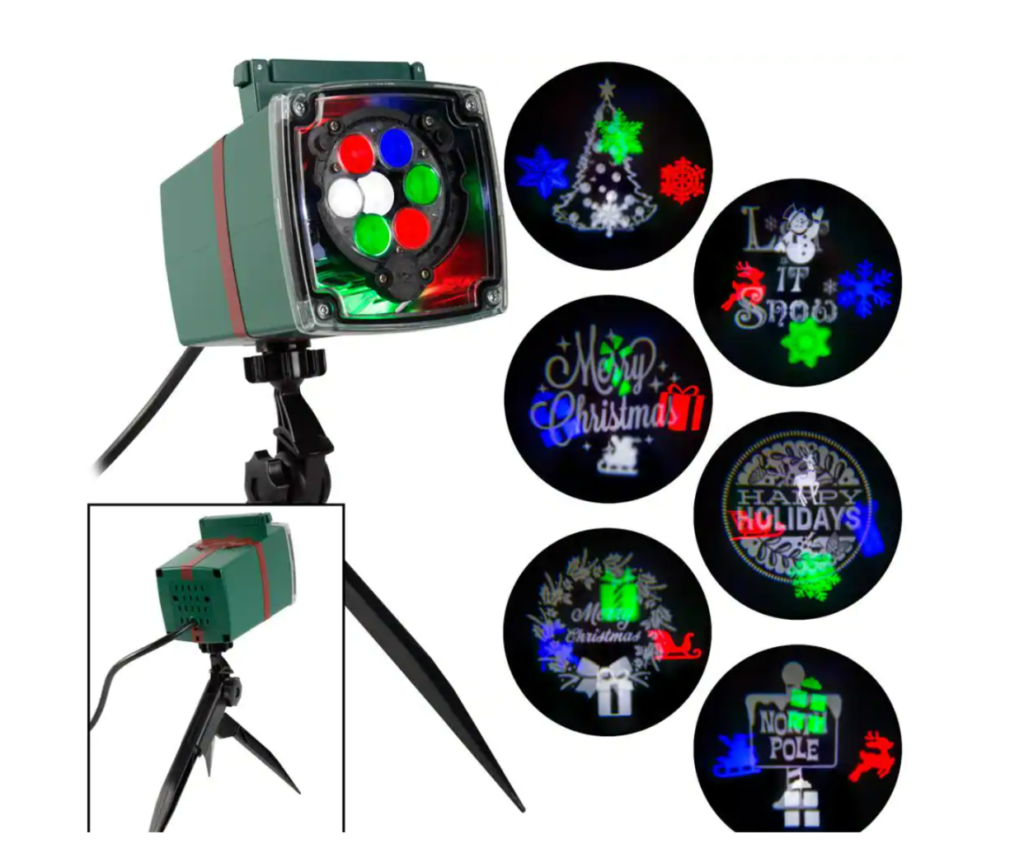 Read Full Article: Aol by Sarah Morlock, Tyler Schoeber, and Allison Bowsher