Featured on Reviewed: We Tested Halloween Inflatables-Here's How They Stand
This article by Anna Lane and Amina Khan includes two Gemmy Halloween inflatables.
Gemmy Double Bubble Witches with Cauldron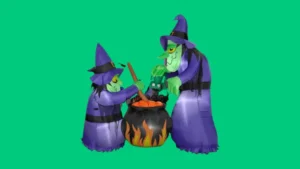 This is my 7-year-old daughter's personal favorite choice among the Halloween inflatables on sale at Walmart. If you have a kid who wants dramatic seasonal décor but who doesn't want anything scary, this adorable decoration hits just the right note.
One of the best things about the Double Bubble Witches Cauldron is how quickly it inflates: It took just 36.33 seconds from box to blow up. Standing at 6 feet high and 4 feet wide, it makes a statement without being overwhelming, and my daughter loved pretending to help stir the witches' brew.
This Walmart Halloween inflatable also scores points for the fact that it is the only inflatable of the bunch that comes with enough stakes and tethers to keep it from blowing over in a strong wind.
Another plus for The Double Bubble Witches Cauldron is that it looks better IRL than it does online, which was a pleasant surprise when we set it up. Plus, it withstood quite a few bouts of my 8-year-old son trying to strangle the witches and my daughter's repeated "stirs" of the cauldron.
Our only complaint is that the frog the taller witch holds doesn't have a light inside of it—unlike both the witches and the cauldron—so you can't see the frog at night.
If you want a Halloween inflatable that won't scare the neighborhood toddlers, get the Gemmy Double Bubble Witches Cauldron ASAP.
Gemmy Hocus Pocus Sisters Inflatable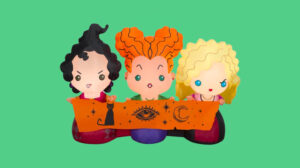 If you're feeling nostalgic this Halloween, this Gemmy Hocus Pocus Sisters Airblown Inflatable is perfect. With a low voltage internal fan, this inflatable blows up in minutes. Made from lightweight durable nylon, it also comes with internal LED lights, ropes, and stakes. The iconic Hocus Pocus sisters will look fantastic on your lawn and be a great complement for when you settle down to watch the highly anticipated sequel that will stream exclusively on Disney+ on September 30, 2022.