Gemmy Grinch Décor at The Home Depot Will Make Your Heart Grow Three Sizes
Festive Grinch décor awaits you this holiday season at The Home Depot. Let your heart grow three sizes with this incredible collection from Gemmy Industries featuring the Grinch and his loyal dog Max.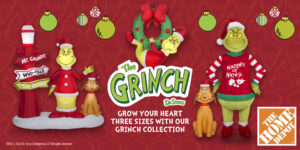 Life-Size Animated Grinch
New this season is the amazing Life-Size Animated Grinch ($199.00), in-store and online at The Home Depot. Wearing a whimsical "Naughty or Nice?" Christmas sweater, Santa hat and Grinchy grin, this 6-ft Grinch sways and moves his head to the tune of his signature theme song, "You're A Mean One, Mr. Grinch".
New this season is the amazing Life-Size Animated Grinch.
Giant Plush Airblown® Grinch
Celebrate this special time of year with a giant 10-ft fuzzy plush Grinch inflatable! Holding his namesake book, Dr. Seuss's "How the Grinch Stole Christmas!", this giant Grinch inflatable makes an impressive addition to outdoor Christmas decorations. The Giant Plush Airblown® Grinch ($179.00) is available in-store and online.
Airblown® Inflatables Featuring Max
Bring Who-ville to your yard this Christmas with the Grinch with Max and Lamp Post Inflatable ($129.00). The Grinch and Max stand on a bed of snow next to a lamp post with signs directing the way to iconic Who-ville locations. This 6-ft tall, 5-ft wide display will certainly make spirits bright. In this merry Max and Grinch inflatable ($79.98), Max sits next to the smiling 6-ft Grinch, who is wearing a cheerful polka-dot sweater. For Max enthusiasts, this Max Inflatable ($34.98) makes a sweet addition to your holiday decorations. Max is dressed in his signature red collar and a Santa hat ready to spread Christmas cheer.
Other Airblown® Décor
Find these and more when you shop the entire collection ($34.98–$199.00) at Home Depot.