Featured on Gearadical: Gemmy Airblown Widescreen Deluxe review: This summer it's movie night under the stars
This article by Jeff McCann features Gemmy's Airblown® Widescreen Deluxe Movie Screen.
When looking for a quality outdoor movie screen, I turned to the company who knows more about inflatable products than anyone. Gemmy and its subsidiary companies are synonymous with outdoor inflatable products and since 1983 have been offering every form of inflatable product you can imagine.
In my case, I have been searching for a good quality outdoor screen for quite some time and had some specific features I wanted in an outdoor movie screen. My wish list was simple. I wanted a big screen that was cost effective and easy to set up.
Larger industrial screens like the giant ones you see at corporate events or professional sports definitely sit up nice and high but also cost tens of thousands of dollars, so something in that realm was entirely out of the budget. Thankfully, Gemmy solved all of this with the Airblown Widescreen Deluxe. Retailing at only $87.99USD, the Airblown Widescreen Deluxe ticked all of my boxes.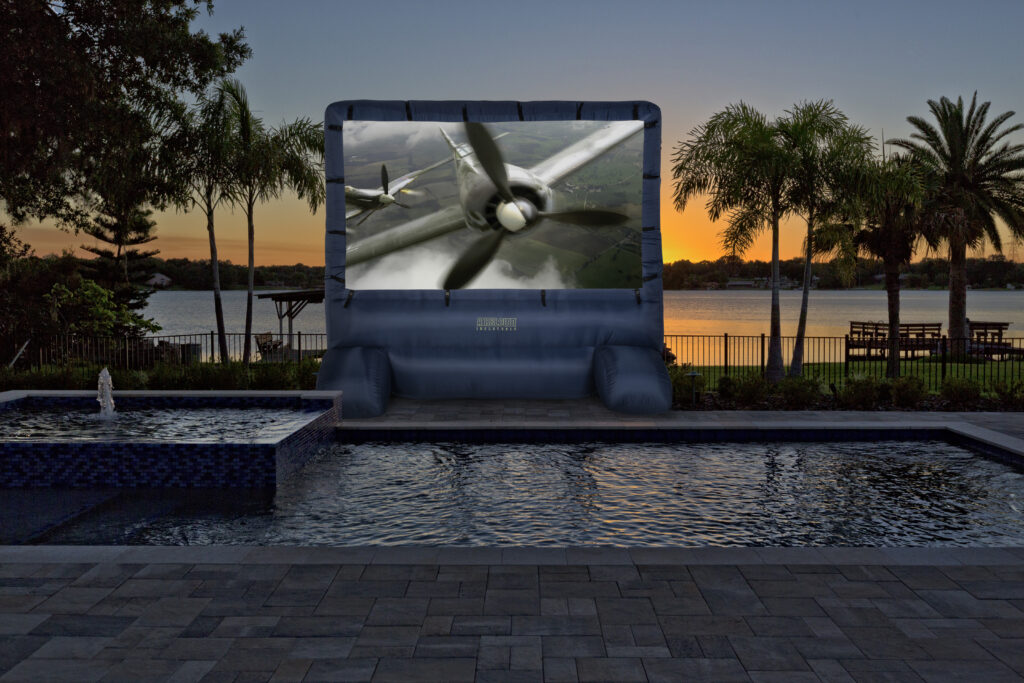 The Airblown Widescreen Deluxe comes in its own carrying bag complete with tethers, stakes, a beautiful screen and built in air blowers for inflating. Inflating the screen only takes seconds, and setting up the screen is very simple. I just opened up the inflatable frame and laid it out on the ground and attached the screen with the plastic buckles. Once everything is snapped together, I plugged in the air blower and the screen quickly inflated. Once fully inflated, I secured the tethers to the loops near the top of the frame with the included ropes and set the screen upright and secured the stakes in the ground to stabilize it from the wind. The inflatable frame is made from thick air blown nylon fabric that Gemmy has upgraded over previous models and I can easily tell it's much more robust than most inflatable fabrics.
What I love about the Airblown Widescreen Deluxe is how high the screen sits off the ground. At 6 feet tall, I can't actually see over the bottom frame (without the screen attached) which makes it perfect for viewing in lawn chairs, blankets or even a vehicle. The screen itself measures 12' high by 11.5' wide with an aspect ratio of 16:9 and corner to corner measures 16.75". Is it the largest screen on the market? No, but I was absolutely thrilled with its size and for small to medium sized backyard or church parking lot activities, it fits the bill perfectly.
Read Full Article: Gearadical by Jeff McCann