Gemmy Unveils Whimsical Lineup of Grinch Decorations at Lowe's
Embrace Your Inner Grinch with This Enchanting Collection
From heartwarming inflatable scenes to playful yard décor, make your home stand out with Gemmy Grinch decorations at Lowe's!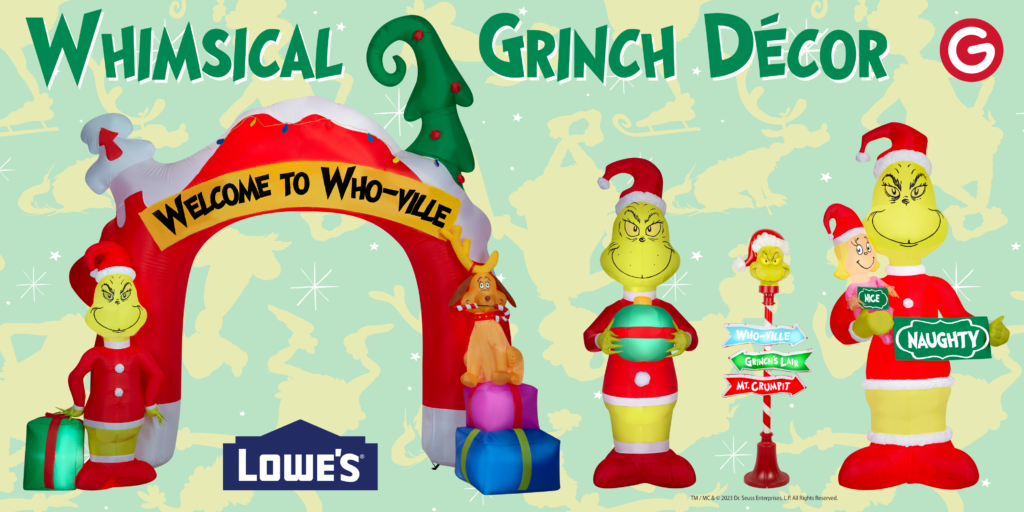 Airblown® Inflatables
Display a heartwarming Grinch and Cindy-Lou Who scene. The Grinch Holding Cindy-Lou Who inflatable is 8-ft tall and features the Grinch in a plush-trim Santa suit holding a "Naughty" sign and a pink-wearing Cindy-Lou Who holding a "Nice" sign.
Experience the wonder of Who-ville with the Who-ville Archway. A grand entrance to your home at 10.5-ft tall and 11-ft wide, this archway showcases the Grinch, Max atop presents, a whimsical Christmas tree, a chimney and a "Welcome to Who-ville" sign.
A delightful 6.5-ft tall Grinch with Ornament inflatable features the Grinch in his element, wearing a Santa suit and holding a green and red ornament.
Bring the festive fun inside with the Grinch Airdorable™. This indoor inflatable Grinch stands in his iconic pose, dressed in a polka-dot and star-patterned red sweater.
Outdoor Décor
With signs pointing to Who-ville, the Grinch's Lair, and Mt. Crumpit, the 5-ft tall Grinch Lamp Post is a whimsical addition to your holiday decorations. The top of the lamp post features a light-up Grinch head wearing a Santa hat.
Deck your yard with the Grinch 3D Tinsel Sculpture that dazzles with 35 white LED lights and showcases the Grinch holding a blue box that says "Fragile Ornaments."
Light up cozy corners with the 24-in Grinch Blow Mold. The Grinch wears a Santa suit and holds a green ornament adorned with a snowflake.
The Grinch and Max Flat-Tastics™ yard décor features the beloved characters embarking on a festive journey in a wreath-adorned red car with presents in the back.
Shop these whimsical and fun Grinch decorations in-store and online at Lowe's.