Light Up Indoor and Outdoor Spaces with Showstopping Christmas Light Effects from Gemmy
Illuminate Your Home with Festive, Fun, and Elegant Lighting
Get into the Christmas spirit by decorating your home with visually stunning and festive lighting displays from Gemmy, sold at The Home Depot.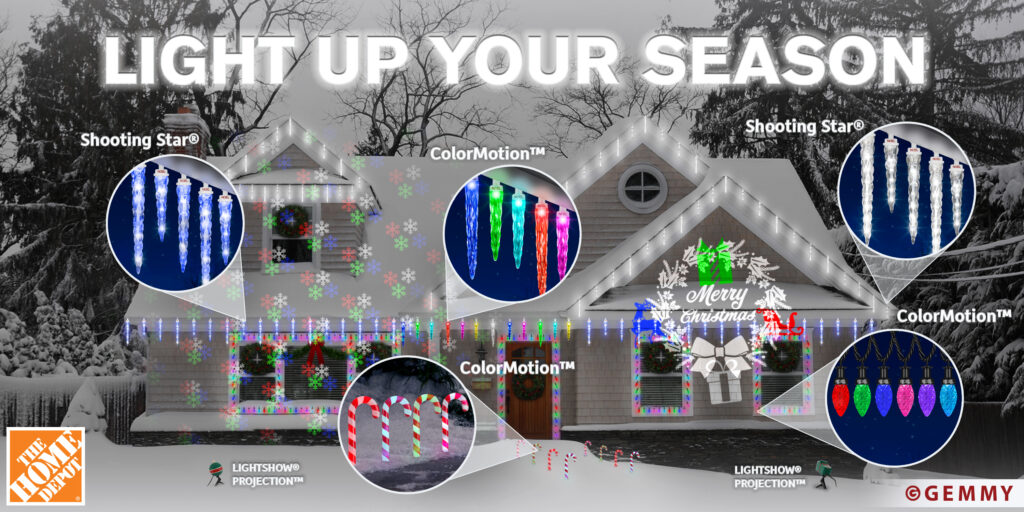 LIGHTSHOW® PROJECTION™: Gorgeous Christmas Spotlights That Instantly Bring the Dazzle
ColorMotion™: Easily Display Vibrant, Pre-Programmed Light Shows
Deluxe Icicle Light Strings in Multicolor or White: Display a synchronized light show in multicolor or bright white. Incredible effects with a dynamic, eye-catching light show in a set of 24 icicles.
Deluxe C9 Multicolor Light String: Feature a dazzling, synchronized light show with this set of multicolor classic C9 bulbs.
Candy Cane Pathway Stakes: Create a welcoming entrance with whimsical, color-changing candy cane pathway stakes, available in sets of four.
Shooting Star®: Showcase Exquisite and Elegant Falling Light Effect
White Icicle: For an enchanting falling light effect, hang Shooting Star® Icicle light strings from rooflines, trees, or anywhere you enjoy Christmas lights.
Icy Blue and White Icicle: For a dual-color display, this icicle light string features icy blue and white falling light.
Shop the entire Christmas lighting collection in-stores and online at The Home Depot.