Gemmy Christmas Inflatables: Grand Displays of Holiday Joy
Collection of Showstopping Inflatables from 6-ft tall to 21-ft wide
Display your Christmas spirit in a big way with larger-than-life Gemmy Airblown® Inflatables, available at Walmart.
Scenes Featuring Santa
Showcasing Santa and his trusty reindeer on a bed of snow, the Santa with Eight Reindeer inflatable is an incredible 21-ft wide. In his red sleigh with white detailing, Santa extends a cheerful wave. A green sack brimming with presents adds to the charm. Available online only.
Slightly smaller in size but every bit as merry, the 12-ft wide Santa with Three Reindeer inflatable features Santa waving from his gold-and-green-accented red sleigh, while three reindeer lead the way.
A playful twist on tradition, the Santa's Delivery Truck inflatable swaps the classic sleigh for a light blue delivery truck with snowflake rims. Santa leans out of the window and is accompanied by a festive penguin.
In the delightful Santa with Elf inflatable, Santa pushes an elf who sits in a red and white wheelchair. The charming elf holds a candy cane and a wrapped gift.
Create lasting memories with the Photos with Santa inflatable. Santa sits beneath a candy cane-striped archway and a "Photos with Santa" sign, with two playful elves and a camera on his side.
Pair the Santa-themed scenes with the 10-ft tall Snowman Holding Christmas Tree inflatable for extra winter whimsy!
Festive Animal Inflatables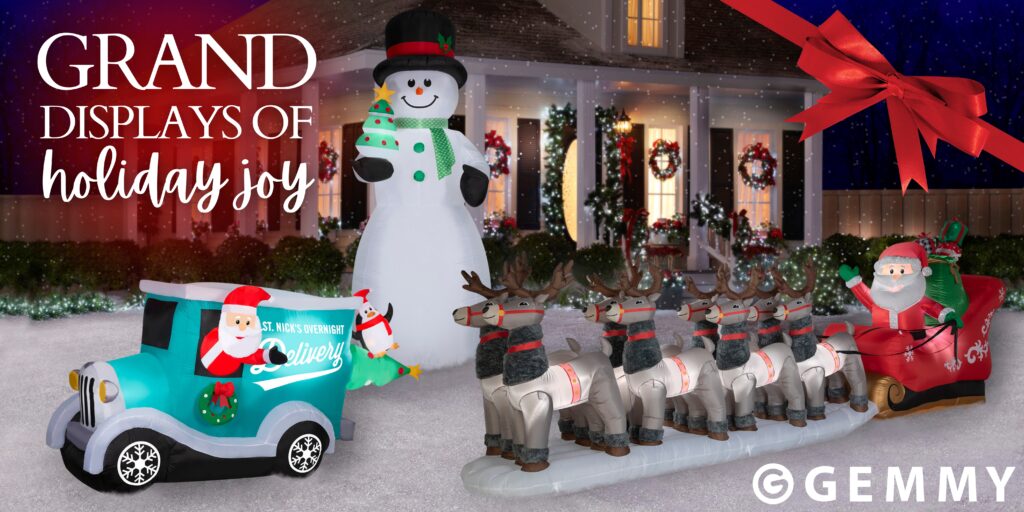 Shop these fun Airblown® Inflatables in-store and online at Walmart.