Twinkling Winter Magic: Holiday Living SPARKLE® Frozen Fractals Yard Décor Shines Bright at Lowe's
Gemmy Introduces an Elegant Christmas Collection that Decorators Will Adore
For a spectacular holiday display, look no further than the Holiday Living SPARKLE® Frozen Fractals yard décor from Gemmy. This stunning six-piece collection features a gorgeous iridescent finish complete with dozens of sparkling cool white LED lights. Available exclusively at Lowe's, this collection allows the Christmas decorator to turn their display into a magical winter wonderland.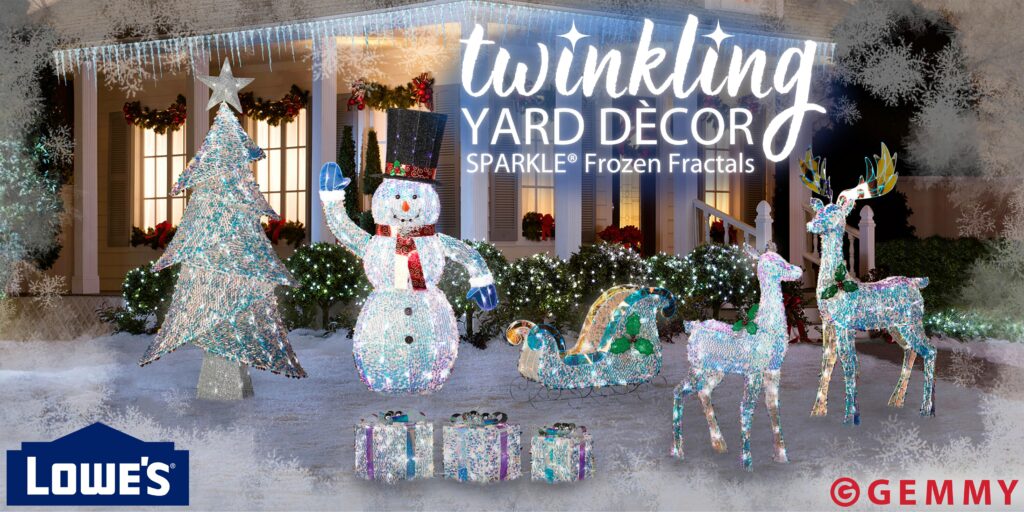 Dynamic and Lustrous Sheen
Designed to complement any Christmas setup, the uniquely textured Frozen Fractals material coupled with the mesmerizing SPARKLE® technology promises to elevate the look of your yard. The reflective iridescent fractals glisten in the sunlight and glow under the moonlight for a beautiful presentation no matter the hour. Timeless elegance awaits with these grand decorations that will impress for years to come.
"We've seen decorators respond with excitement to our iridescent yard décor. Frozen Fractals features an iridescent finish with a dynamic, lustrous sheen and colors that appear to change as you view the items from different angles. The collection offers an elegant, modern style with a dazzling light show to surprise and delight your family and friends," said Steven Harris, Vice President of Christmas product development at Gemmy.
Six Gorgeous Styles
Each piece contains dozens of interior LED lights programmed with Gemmy's twinkling SPARKLE® effect. Decorators can mix and match six stylish pieces:
Find Holiday Living SPARKLE® Frozen Fractals yard décor in-store and online at Lowe's!