Merry Grinchmas: Delightful Grinch Decorations from Gemmy
Gemmy Reveals Amazing Décor Inspired by Dr. Seuss' How the Grinch Stole Christmas
The spirit of Grinchmas comes alive at The Home Depot with playful Gemmy decorations inspired by the timeless tale, How the Grinch Stole Christmas.
Animated Decor
A realistic rendition of the beloved character, the Life-Size Animated Grinch is 6-ft tall and wears a red sweater featuring Max's friendly face in the center. Standing tall in his iconic pose, the Animated Grinch sways and moves his head to his signature song, "You're a Mean One, Mr. Grinch."
For those seeking smaller displays of Grinchy cheer, the 4-ft tall fuzzy plush Animated Grinch is the perfect choice. Soft to the touch and dressed in a Santa suit, this mini Grinch dances to the same tune, and will add joy to the coziest corners.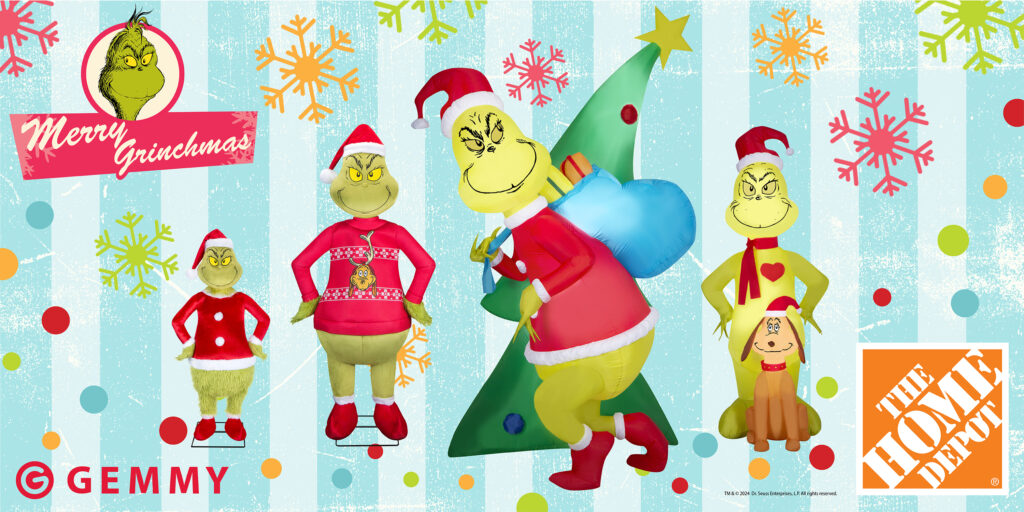 Airblown® Inflatable Scenes
Towering at 9-ft tall, the Grinch with Tree Scene captures the Grinch's cheeky charm as he mischievously tiptoes in front of a Christmas tree with a blue sack slung over his shoulder. The Grinch and Max Scene features the duo in festive attire, with the Grinch's heart displayed in red as a symbol of his transformation. Make a statement with the 9-ft wide Merry Grinchmas Scene, showcasing the Grinch standing next to a red-and-green "MERRY GRINCHMAS" sign.
Airblown® Inflatables: 4-ft tall
The Grinch in Ugly Sweater inflatable adds humor with its declaration: "All Your Sweaters Are Ugly." Suspended on a candy cane, the Grinch on Candy Cane inflatable can be hung from your home for a quirky touch. The Max in Sweater inflatable features the Grinch's canine companion sitting happily with a bone in his mouth.
LIGHTSHOW® Lighting
Brighten your home with the Grinch EmoteGlow™ Light String, featuring eight singing Grinch heads using EmoteGlow™ technology. The Whirl-a-Motion™ Grinch Projection displays swirling images of the Grinch, Max, candy canes, and an ornament.