Disney's The Haunted Mansion Comes to Life at Lowe's with Spooktacular Gemmy Halloween Decorations Inspired by Iconic Attraction
Indoor and Outdoor Decor Including a Life-Size Animated Caretaker
Disney fans are in for a frightfully fun treat this season with Gemmy's enchanted Halloween collection available at Lowe's. Inspired by Disney's celebrated theme park attraction, The Haunted Mansion, the collection includes an assortment of products including inflatables, animated characters, life-size ghostly haunts and colorful pathway lights to brighten up walkways.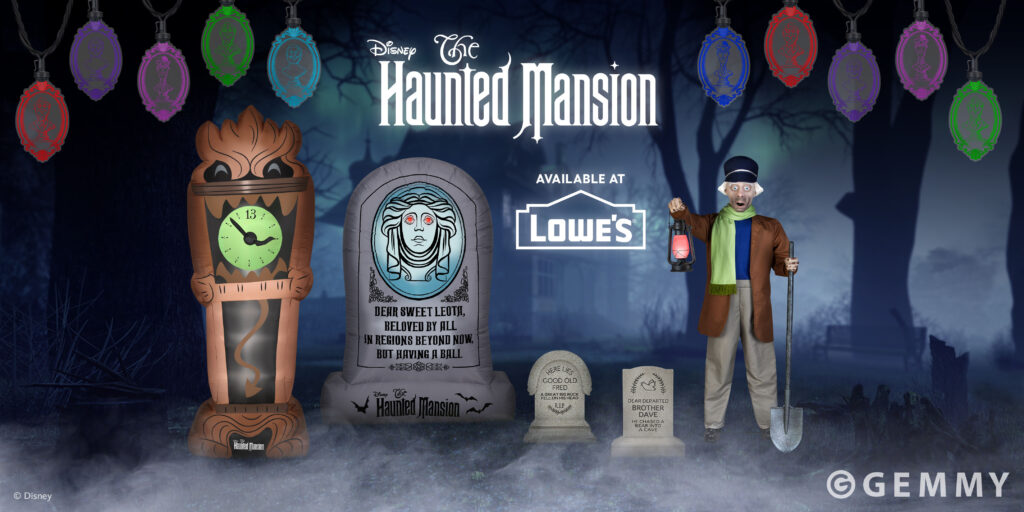 Airblown® Inflatables
Tick tock. Tick tock. The countdown is on with the Giant Animated Airblown® Inflatable Monster Clock with spinning hands and an ominous 13th hour. Inspired by the Grandfather Clock in Disney's The Haunted Mansion Corridor of Doors, the inflatable clock stands an impressive 8-ft tall. Get yours before time runs out.
The spirit of Halloween comes to life with the 6-ft tall Airblown® Inflatable Madame Leota Tombstone with sound effects. Disney Madame Leota's face lights up and her eyes flash red as she speaks eerie phrases from beyond the grave.
Animated Characters: Life-Size and Tabletop
Kick up the fright factor with the 6-ft Life-Size Animated Caretaker! This sound and motion-activated Halloween animatronic delivers a showstopping experience. Dressed in his signature style with a lantern and shovel in hand, the Disney Animated Caretaker moves his lantern to the tune of "Grim Grinning Ghosts".
For smaller spaces, don't miss the ghostly trio of Disney Animated Hitchhiking Ghosts with all the right moves. Styled in their muted blue tones, our musical Hitchhiking Ghosts dance and sway to "Grim Grinning Ghosts".
24" Indoor/Outdoor Tombstones
Create your own Disney's The Haunted Mansion graveyard with ghostly blow mold tombstones. Featuring a distressed stone-like exterior, each 24-in headstone includes a unique epitaph—one for Disney's Good Old Fred and the other for Disney's Dear Departed Brother Dave. They make a spooktacular addition to any Haunted Mansion graveyard scene.
LightShow® ColorMorph™ Light String and Pathway Stakes
The unique Etched Ice Light String and Etched Ice Pathway Stakes display a colorful, mesmerizing light show. Both come in sets of three and feature busts from Disney's Haunted Mansion in ornately styled frames.Create eye-catching entrances and focal points with Gemmy's 2023 Disney's The Haunted Mansion Collection. Available in-store and online at Lowe's.