BT21 Airblown® Inflatables from Gemmy Unveiled for Halloween Fun
BT21 Inflatable Scene and Individual Character Airdorables™ Launched for the Season
Walmart shoppers are in for a treat this Halloween as BT21 inflatables from Gemmy have arrived in stores across the country. These cute and colorful inflatables feature the beloved LINE FRIENDScharacters, UNIVERSTAR BT21 – a character IP loved globally by the youth and the youthful at heart. The collection includes a festive Halloween scene of all the characters and individual character Airdorables™.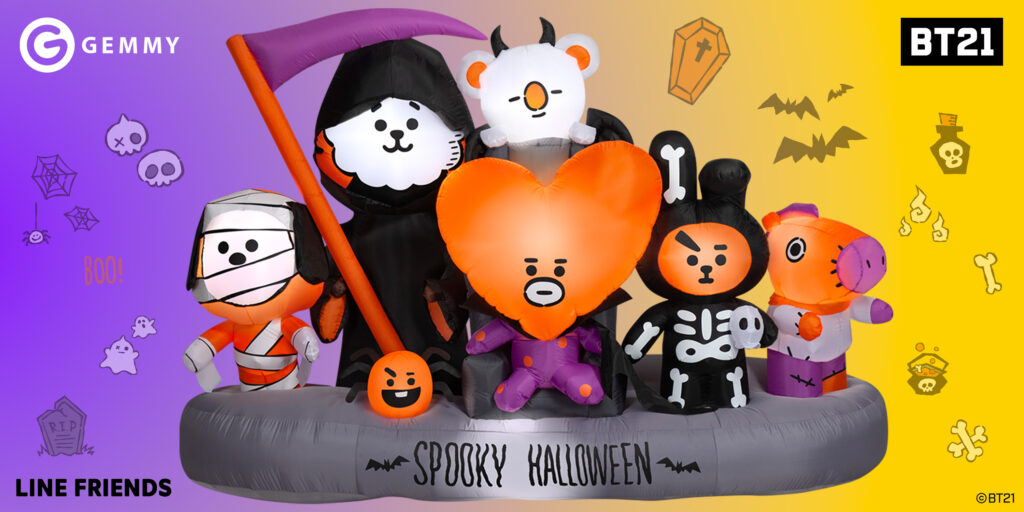 BT21 Airblown® Inflatable Scene
The main attraction is the BT21 Airblown®Inflatable Scene, which showcases the adorable characters in a spooky and fun Halloween-themed design. At 8-ft wide and nearly 6-ft tall, this orange, purple and black inflatable is sure to stand out!
It includes a "Spooky Halloween" sentiment and the characters are dressed in their Halloween best: KOYA resembles a spider, RJ mimics a reaper, SHOOKY looks like a bat, MANG's shirt is embellished with a ghost, CHIMMY resembles a mummy, TATA wears a cape and holds a skull balloon, and COOKY wears a skeleton costume.
Individual Character Airdorables™
Individual Airdorables™ of the BT21 characters are also available in-store only at Walmart this season. Each of the Airdorables™ are wearing their festive attire and stand under 21-inches tall for effortless indoor display. Collect them all!
Bring joy to your spooky holiday with the BT21 Airblown® Inflatable Scene and Airdorables™ from Gemmy, sold in-store or online at Walmart.