Celebrate the Magic of Harry Potter with Gemmy's 12-ft Hogwarts Castle Airblown® Inflatable at Sam's Club
Multisensory Hogwarts Archway Tunnel Exclusively at Sam's Club this Halloween
Create an unforgettable entrance with the awe-inspiring Airblown® Inflatable Hogwarts Castle from Gemmy! Sold exclusively at Sam's Club this season, the colossal 12-ft tall by 12-ft deep castle archway includes a walkthrough tunnel with metallic fabric accents, multiple light effects and enchanting music. Take your Halloween festivities to new heights with the magical Hogwarts Castle inflatable.
Click here to shop the Hogwarts Castle Airblown® Inflatable at Sam's Club.
Celebrate the Wizarding World with our multisensory Hogwarts Castle inflatable archway tunnel. As trick-or-treaters approach, they'll be welcomed by one of the most recognizable musical tunes in cinematic history—Hedwig's Theme. The harmonic chimes are accompanied by warm white LED microlights flickering in the turret windows. Steady warm white lights frame the entrance along with the most charming inflatable Harry Potter.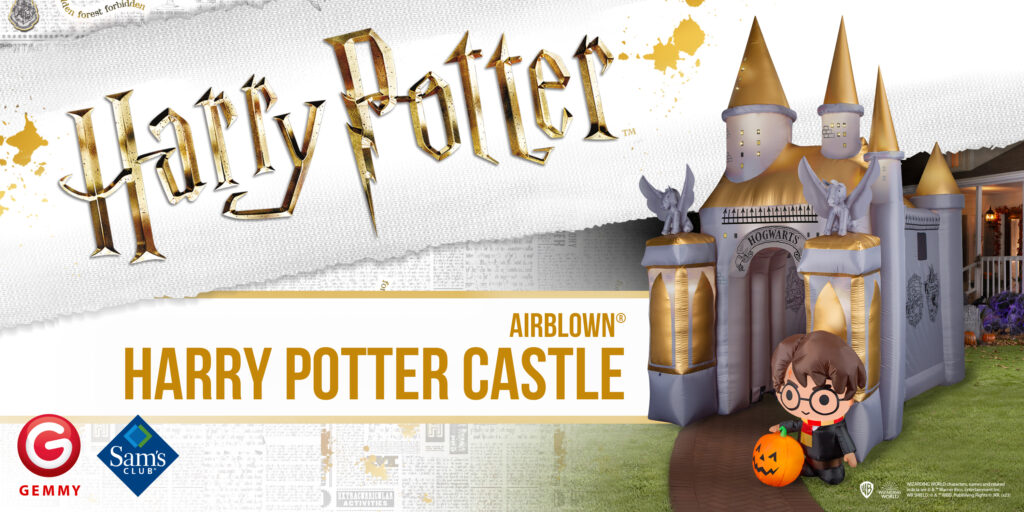 Crafted with meticulous attention to detail, this inflatable masterpiece features two gargoyles perched atop pillars, guarding the castle entrance. Shiny metallic gold fabric and intricate design elements are used throughout to create a grand visual statement. Harry Potter, wearing his Gryffindor uniform and signature round glasses, stands with a grinning orange jack-o'-lantern to greet your guests.
Perfect for hosting a Halloween party, creating an over-the-top entrance for trick-or-treaters, or simply thrilling Harry Potter fans and passersby, the Airblown® Inflatable Hogwarts Castle Archway Tunnel is destined to be the must-have hit of the season. Leave a lasting impression on all who venture in and order your Hogwarts Castle Inflatable today, exclusively from samsclub.com.