Fright the Night with Disney's Jack Skellington, Oogie Boogie, Sally, and Zero Halloween Decorations
Gemmy Airblown® Inflatables, Animated Characters, and Adorable New Kawaii Minis
Fans of Disney Tim Burton's The Nightmare Before Christmas have many Halloween decorations from Gemmy to choose from in stores and online at The Home Depot. Featuring Tim Burton's iconic characters, the collection allows movie lovers to transform their homes—inside and out.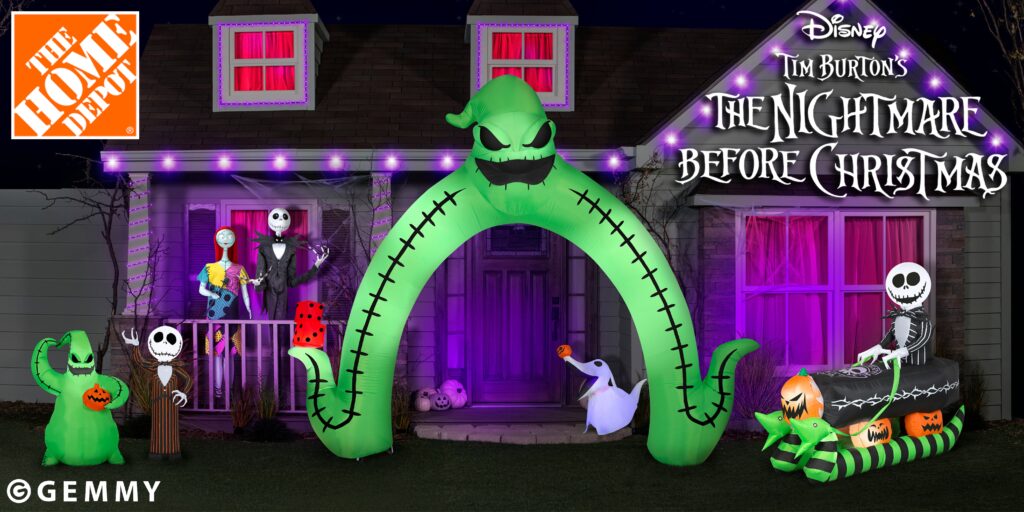 Airblown® Inflatable Archway, Coffin Scene and Single Characters
Set the scene with an impressive Oogie Boogie Archway. At 13-ft by 10-ft, the bright green archway with Oogie Boogie's head creates an eye-catching focal point to welcome guests and trick-or-treaters. Add Disney's Jack Skellington Coffin Sleigh for an over-the-top look. Intricate coffin details, lime green-and-black-striped snake runners, and scary jack-o'-lanterns make this inflatable a standout decoration.
To create a custom display, mix and match with single character inflatables including spiffy Disney's Jack Skellington in an orange pinstripe suit, Disney's Oogie Boogie holding a jack-o-lantern, Disney's Sally with her patchwork dress and red hair, and Disney's Zero, Jack's ghostly dog that glows with haunting purple LED light.
Animated Plush
Disney's Jack Skellington and Oogie Boogie animated plush characters stand 13-in tall and deliver entertaining performances. Dressed to impress in a purple pinstripe suit, the Disney's Jack Skellington Animated Plush moves and shuffles to an instrumental version of "This is Halloween". Rocking side-to-side and wearing his signature burlap, the Oogie Boogie Animated Plush grooves to an instrumental rendition of "Oogie Boogie's Song". These animated plush characters are fun and captivating must-have additions for inside the home.
EmoteGlow™ Lighted Decor
Finally, decorators will love EmoteGlow™ items, which feature light up faces synced to a song. Styles include the Disney's Jack Skellington Light String with eight white pumpkins, as well as adorable new 6-in tall Kawaii-style figures—Kawaii Jack Skellington and Kawaii Oogie Boogie. Each glow with singing character faces synced to a song from the movie.Find this Gemmy décor in-stores or online at The Home Depot.