It's Just a Bunch of Hocus Pocus at Walmart
Queue the Hocus Pocus playlist—or better yet, watch the movie for decorating inspo with your favorite trio of sisters.
Huggable Halloween Greeters
New this season are adorable Winifred, Mary and Sarah Sanderson Halloween greeters. Dressed in their iconic witchy garb, each stylized greeter is 21 inches tall. These charming Hocus Pocus characters make great gifts for fans of the movie or decorative accents at your Hocus Pocus-themed gathering. Choose your favorite or collect all three.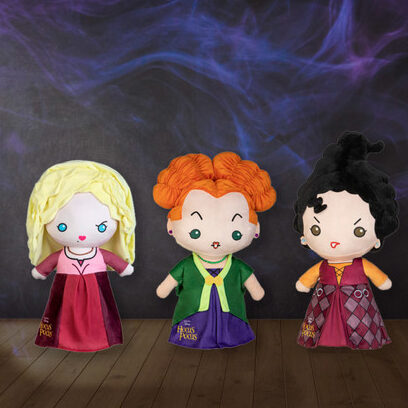 Color-Changing Sanderson Sisters
Create a spooky atmosphere instantly with Hocus Pocus ShadowLights™! Featuring the Sanderson sisters and Halloween icons, this amazing tabletop light casts color-changing images up to 10 feet in all directions. Surround yourself in rotating or still images with Hocus Pocus ShadowLights™. Includes a decorative black base with a "Happy Halloween" sentiment.
Mesmerizing Indoor/Outdoor Spotlight
Display a wavy, mesmerizing "Hocus Pocus" logo on any flat surface with Hocus Pocus LightShow® Projection ShadowWaves™. Perfect for indoor or outdoor displays, this orange spotlight projects onto walls, doors, fences, garage doors or anywhere you need a touch of Hocus Pocus. Set up is super simple, it stakes easily into the ground or stands on its adjustable base. Includes a decorative Halloween jack-o'-lantern casing.
Get your Hocus Pocus on exclusively in-store at Walmart.