Gemmy Releases New and Improved Animated 12-foot Mummy at Lowe's
The Giant Animated Mummy is Back and Better Than Ever
Gemmy's 12-foot Mummy returns to Lowe's this Halloween to impress and terrify trick-or-treaters and Halloween enthusiasts alike! Featuring a moving torso, unsettling sounds, poseable arms, and a flickering light effect with four selectable colors, the giant Mummy creates a spooky atmosphere and sets the perfect tone for the season.
Click here to shop the 12-ft Animated Mummy from Gemmy.
This year's Mummy is just as impressive as its popular predecessor, and even boasts new improvements. An upgraded IR sensor ensures consistent activation, even at night, and the Mummy's internal components have been upgraded to endure longer run times. Additionally, there is now volume control in all functions, improved fabric to withstand outdoor weathering, and more visible lettering on the control box. Customers will also enjoy easy-to-assemble connectors and enhanced instructions.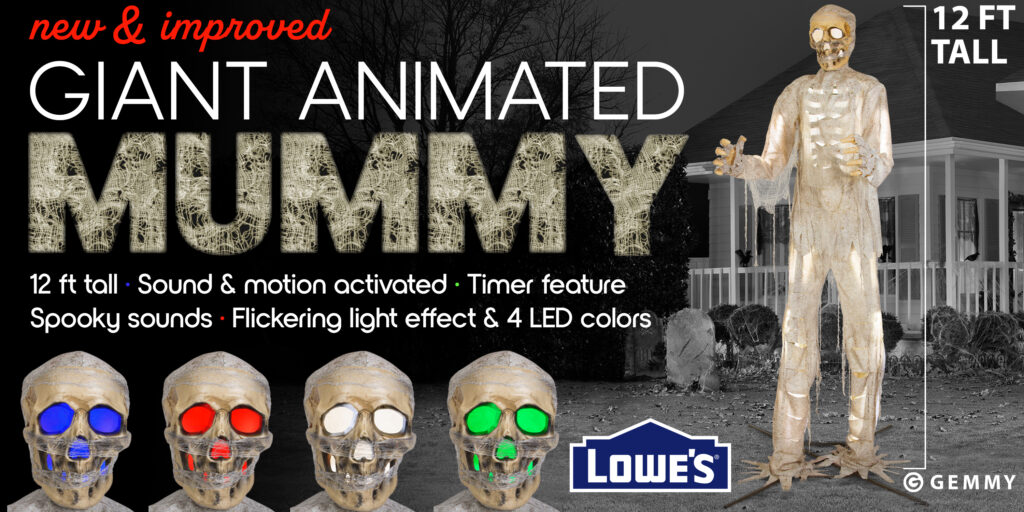 Adding to its creepy life-like appearance, the 12-foot Mummy turns from side-to-side and has poseable arms to ensure customers achieve their desired bone-chilling stance for the Mummy. These elements, coupled with its nightmarish moans and gauze-like distressed fabric, will make the giant Mummy the talk of the block.
Decorators have the choice of selecting four LED color options – red, green, blue or warm white, which are programmed with eerie flickering ShortCircuit™ lighting technology. With an ability to set a specific start time, the Mummy features a timer that allows it to be set for six hours on and 18 hours off, for added convenience.
The giant animated Mummy from Gemmy is available now at select Lowe's stores and on Lowes.com, while supplies last. Visit Gemmy's website, www.gemmy.com, to view a detailed instructional video for simplified setup.