Gemmy Releases 8-ft Life-Size Animated Demogorgon Inspired by Hit Netflix Series Stranger Things
Bring a Bit of Stranger Things Home with You This Halloween
Gemmy Stranger Things decorations will be available at Walmart this season! These exclusive items, including a life-size animated Demogorgon, will allow fans to immerse themselves in the world of Netflix's Stranger Things.
8-ft Life-Size Animated Demogorgon
The Upside Down truly comes to life with the 8-ft tall Animatronic Demogorgon. Not only will the imposing size turn heads, but the realistic appearance of the monster will send shivers down the spines of all who see it. When activated, the Demogorgon turns at the waist and makes growling and screeching noises that could only be produced by a creature from the Upside Down. This true to life decoration is available exclusively online at Walmart.com.
Click here to shop the Animated Demogorgon.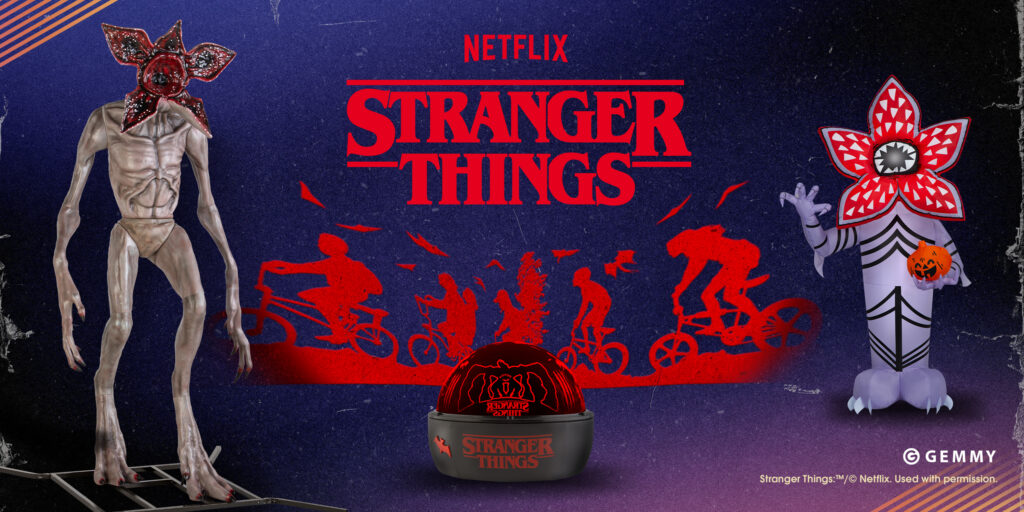 Airblown® Inflatable Demogorgon
For those who want a more playful touch for their Halloween display, the Airblown® Inflatable Demogorgon is the perfect choice. Standing 5-ft tall and holding a happy jack-o'-lantern, this inflatable is every bit as otherworldly. The light purple body with black stripe detailing, accompanied by the iconic head with sharp teeth, will stand out in any yard. Find the inflatable Demogorgon coming soon in-store and online at Walmart.
Stranger Things ShadowLights™, Greeter and Airdorable™
Transform a room with Stranger Things ShadowLights™! Using energy-efficient red LEDs, the light projects a rotating scene of instantly recognizable images from the show including the ominous Mind Flayer, Demogorgons, and the brave, bike-riding kids of Hawkins. Welcome guests with a 20-in tall Demogorgon Greeter holding a jack-o-lantern with an upside-down "Happy Halloween" sentiment. Another fun pint-sized option is the Demogorgon Airdorable™! Standing 18-in tall, this inflatable monster also holds a festive pumpkin that reads "Eat Candy or Be Eaten." These exclusive items will be available soon in-store and online at Walmart.